Platinum Flow Gasketed Duct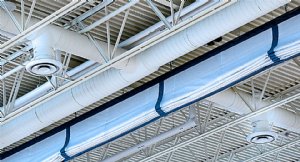 The Platinum Flow® System is a LEED (Leadership in Energy Efficient Design) inspired Duct System designed to save time and money for building owners, engineers, installers and end users alike. The cornerstone design feature of the system is the double fail safe EPDM sealing gasket which is mechanically locked with a continuous 360° hem. This unique design allows for quick site assembly and a tight seal without the use of field applied sealants. During installation as contact is made, the double seals fold over the mating duct producing an incredibly tight seal.
Today's modern building architecture demand increased efficiencies throughout all the construction elements. Platinum Flow® delivers with both an energy efficient design and factory controlled construction. Platinum Flow® exceeds SMACNA leakage class 3.

Read More
---